Hello everyone,
first and foremost, this thread is based on Tuccy's work on the Czechoslovak tree (which can be found here) - he did a tremendous job and the whole thing has already been passed to the guys at Wargaming development, so there's a chance we'll see some of the following vehicles.
As you probably know, Czechoslovak tanks will be a part of the newly developed "EU" tree. It's one of the few things we know the tree will contain (along with Italians, Hungarians, Swedish, possibly Yugoslavs and others). In fact, pre-war Czechoslovakia was an arms-manufacturing superpower, Czechoslovak weapons were widely exported and they will most likey form the (pre-war part) backbone of the tree.
When it comes to tank destroyers however, Czechoslovakia wasn't that active, up until the war, during which the famous Hetzer was developed and manufactured by ČKD Pilsen. Otherwise, however, Czechoslovak industry during wartime was completely under the command of the Germans and not that many TD projects were developed during 1939-1945. 1945-1948 saw a sort of renaissance of the Czechoslovak military construction development and several projects were concieved. With the closing of the Iron Curtain however, the independent Czechoslovak designs were quickly stopped and the whole military industry oriented on the Russian vehicles. Some of the Czechoslovak projects lasted until 1952, but by then the whole construction branch was firmly in the hands of communists and the rise of the Warsaw Pact meant doom to all independent thoughts, not only in the military construction branch.
Surprisingly enough, there are enough vehicles to actually make TWO partial branches of the Czechoslovak tank destroyers, ranging from tier 2 to tier 6, with a possibility to be prolonged to tier 7-8 either by some fictional evolution E50M style, by simply buffing the existing projects, by introducing projects Tuccy's tree "saved" for the arty branch or by introducing licensed soviet tank destroyers with modifications (the SD-76 (premium), SD-100 and the licensed ISU-152). Tuccy's initial concept is this:
The left branch has the turreted vehicles (with the exception of the ST-II), the right branch has turretless vehicles. Let's start with the turretless branch.
Turretless branch
As you can see, it's basically a mix of Škoda designs, with the LP and TVP-based projects later on. Let's look at them closer.
Tier 2 - Š-i-d
Additional photos:
History:
Š-i-d is a Škoda design, based on the Š-I (MU-4) tankette, developed in mid thirties by Škoda as a response towards the demands of the royal Yugoslavian army (the "d" in the name means "dělový" - "gun variant"). It was designed in 1935 - a simple box-shaped casemate was added on the original hull,made out of 5-20mm armor plates, riveted together. It had a crew of two and it was armed with a modified version of the Škoda A3 37mm AT gun (that could move 10 degrees to the sides from its axis, the elevation was -10 degrees to 25 degrees). The prototype however still had quite a few flaws. By the end of 1935, it was introduced to the Yugoslavian officers, who liked it, but they submitted a number of improvement suggestions, which were later incorporated into the next version, designated Š-i-D. Š-i-D was the result of the Yugoslavian input. Namely, the chassis was prolonged, by adding one roadwheel and a roller and the engine was a more powerful model. The armor plates were a bit thicker (23mm max) and it was armed with an improved model of the A3 gun (the A3J), that had an extended traverse possibility (15 degrees from the axis). The vehicle was well liked and in 1936 (after trials), Yugoslavia signed a contract for 8 of these vehicles. They were subsequently accepted into the service under the designation of T-32. They were used to train crews mostly, but after Yugoslavia was attacked by Germans and their fascist allies, 4 of these vehicles fought sought of Belgrade, where they were destroyed by German artillery - despite their short career, they were regarded as successful. The remaining 4 vehicles (unarmed, used for training) stayed in the military school in Zemun, until they were captured by the Germans there. They were sent to (now German-occupied) Škoda factory for refit and afterwards, they went to the Waffen SS units and were used for training.
Game-wise, this vehicle will most likely be a mixture of Š-i-d and Š-i-D (with the Š-i-D hull, and possible upgrade to the 37mm cannon). Regarding its name - pre-war Czechoslovakia had a HUGE mess in weapon nomenclature (almost as bad as Germans had in the war). There are various ways how to write the name of this vehicle, which originally derivates from the Š-I (Š-roman one) tankette. Written versions of Š-i-d, Š-1-D and others (the MU designation) are known to exist and they were most likely caused by typos made by officers, workers and ministry clerks.
Characteristics:
Weight: 4,8t (Š-i-D)
Armor: 22mm front, 10-15mm sides, 5-8mm back
Engine: Škoda Flat Six (55hp, possible upgrade to 60hp in the Š-i-D version)
Max. Speed: 41 km/h
Gun: 37mm A3, upgrade to A3J
Tier 3 - Š-i-j
History:
After the success of the Š-i-D vehicles in 1937, the Yugoslavian government did put a new set on demands for Škoda engineers to work on. These demands included a small gun tankette. The resulting prototype, based on these demands, was designated Š-i-j (J stands for jugoslávský (yugoslavian)). It was bigger than the previous model and had improved suspension and a brand new engine. But most importantly, it also had a new more powerful gun - the 47mm A-9Ja. One prototype was made and tested extensively in Yugoslavia in 1939/1940. It wasn't found perfect - in fact, it had quite some flaws - but despite that, it was accepted for future service. A 108 vehicle batch was planned, but based on the war experience, Yugoslavian army changed the specifications and focused on heavier vehicles - and that was the end of this project. The prototype was taken back to Czechoslovakia (and redesigned, first to T-1D, later T-2D and finally T-3D), where it remained until it was taken away by Waffen SS representatives on 17.9.1943 to Munich for testing. Its final fate is unclear.
Characteristics:
Weight: 5,8t
Armor: 30mm front, 15mm sides
Engine: Škoda Diesel (60hp)
Max. Speed: 31 km/h
Gun: 47mm A9Ja, upgrade to German 50mm - theoretically
Tier 4 - ST-I, G-13
History:
After the war, newly restored Czechoslovakia found itself without any standartized equipment and with its whole industry oriented to fuel the German war machine. ČKD specifically (under the German name BMM) had all the know-how and tools to produce one of the late-war legendary designs, the Jagdpanzer 38(t), later to be known as the Hetzer. Both Škoda and ČKD offered the new Czechoslovak government to continue producing these vehicles for the Czechoslovak army, armed by a mixture of old Soviet, British and German equipment (including Panzer IV's, Panthers and several Tigers). However, in 1945, the Hetzer was tested by the Czechoslovak army, heavily critisized for its glaring weaknesses and in October 1945 only 20 unarmed vehicles were ordered for training purposes (it was recommended by the committee not to adopt them for service). Later though, this decision was reverted, as the training version (under the designation of ST-III) was fairly successful and the armed version, now designated ST-I (ST = "stíhač tanků", "tank hunter" in english) was adopted despite army reservations. In the end, an order was made to refit 87 captured German Hetzers and to build 20 new ones. The differences between the original Hetzer and the ST-I were minimal. Namely, the defensive machinegun was removed from the top of the hull. The vehicles were armed with the original German StuK 40 cannon and with the refurbished Pak39 75mm L/48 cannons. Some were even the German "Starr" versions with simplified gun mounts, which were converted to normal gun mounts. In the end, roughly 150 new pieces were built from scratch, another 158 were built for Switzerland under the designation of G-13 and later, in the early 60's, 8 were sold to Guinea. Czechoslovak army kept these vehicles until the 60's, when they were replaced by the Soviet machines, such as the SD-100. Some were used for experimental mounts (such as the 150mm SPG based on Hetzer hull). Czechoslovak vehicles were later redesigned to "Sh PTK 75 mm vz. 39/44" (self propelled anti tank cannon 75mm, pattern 39/44)
Characteristics:
Weight: 15,7t
Armor: 60mm front, 8mm sides
Engine: Praga 6 cylinter (cca 170hp), upgrade to cca 200hp possible
Max. Speed: cca 40 km/h
Gun: 75mm StuK40, 75mm PaK39
Tier 5 - ShPTK-LP
History:
As mentioned in the ST-I section, right after the war, Czechoslovakia was armed with various captured, lend-leased or even donated allied vehicles. It was a huge mess and a logistical nightmare. However, contrary to the chaos that ruled the army in the early post-war days, design bureaus at ČKD and Škoda factories survived the war relatively unscathed, mostly because they were simply useful for the Germans. And so it was that new designs for the re-estabilished Czechoslovak army were concieved right after the war. The new Czechoslovak design school was a mixture of German and Russian influences (with - relatively few - western ones), but also went back to the construction tradition and the classic roots of the 30's. One thing Czechoslovaks were really good at was light tank construction. While war and immediate-post-war projects were being worked on independently by the design bureaus, it was decided to offer the army an unified project for the light chassis (LP - lehký podvozek), that would form the basis of a light tank, a light tank destroyer and some specialised vehicles, such as a self-propelled anti-aircraft gun.
On 18.-20.11.1948, a conference took place at Škoda works (already under the control of the communists), that was to lay out the future of the Czechoslovak unified light chasses (LP) project regarding the self-propelled guns. Two branches of the army took part in it - the tank command and the artillery command, both interested in the projects. However, demands of both of these branches varied wildly. Artillery command clearly preferred turreted vehicles with very light armor, while tank command preferred heavily-armored "Hetzer-like" constructions with low silhouettes.
Several (in fact, too many) project ideas came out of it. One of them was a construction drawing, designated Zb 5920-S, showing a Hetzer-like vehicle, armed with the newly-developed Czechoslovak 76,2mm cannon A19 with possible elevation of -8 to +20 degrees - and possible 30 degrees traverse from the vehicle axis. Secondary armament would be a 7,92mm machinegun and a newly-developed Czechoslovak 12,7mm machinegun installed in a mini-turret, that would be shared with the TVP-based vehicles (see further). The armor was to be cca 50mm thick at the front, sides would be cca 25mm thick. It was to be cca 17t heavy and powered by 500hp V8 turbocharged engine.
Some initial ideas were laid out, but in January 1949, it was decided there are way too many new projects. The project was first combined with another project (which was supported by the artillery command) and later disappeared, probably scrapped in 1950/1951.
Characteristics:
Weight: 17t
Armor: 50mm front, 25mm sides
Engine: turbo-charged V8, 500hp
Max. Speed: 55 km/h
Gun: 76,2mm A19, a 105mm howitzer version was also developed
Tier 6 - ShPTK-TVP
History:
This vehicle idea, based on the TVP chassis, came from the same conference as the tier 5 LP vehicle. After the war, Czechoslovaks were looking for their new universal tanks and a series of projects, designated TVP (Tank Všeobecného Použití - "tank for universal use") came to be. You can read about the series in an
article I made
. One of the 1948 conference ideas was to use the hull of the vehicle for SPG and TD projects. Again, there were two competing "schools" - the tank command preferred a low armored tank destroyer, while the artillery command of the Czechoslovak army preferred a turreted version. This is the turret-less proposal. It was to be armed with a newly-developed Czechoslovak 100mm "AK-1" cannon (traverse - 20 degrees from the axis on both sides, -8 to 20 degrees elevation), it was to weight around 40 tons, the heavily sloped frontal armor is rated at 65mm front and the vehicle was to be equipped with a 1000hp V16 ČKD AHX (or Škoda AHK) (!) engine. Another proposal (seen on the picture under number 2) was to actually arm it with an indigenous 152mm howitzer, thus creating a "supercharged Hetzer". The project lived on for a short while, but it was cancelled along with the TVP (around 1952).
Characteristics:
Weight: 40t
Armor: 65mm front, 20mm sides
Engine: V16 Škoda AHK or ČKD AHX, 983hp
Max. Speed: ?? km/h
Gun: 100mm AK-1, or a 152mm howitzer
Turret branch
Tier 2 - MU-6/III
History:
MU-6 was a Škoda prototype design from 1933-1934. MU series of tankettes - first armored vehicles designed by Škoda - were heavily inspired by Carden Lloyd tankettes (the suspension was almost identical, even though Škoda never owned a license). It's predecessor - the MU-4 was quite a successful design (beating the Polish TKS and another Czechoslovak design - Praga P-I in the competitions for the Yugoslav tankette order), but the army required something with more punch and Škoda obliged. The result was the MU-6, basically a tankette with an unarmored revolving turret, armed with a 47mm A-2 cannon and machineguns. Armor was practically nonexistent - 6mm and 8mm sheets covered the vehicle, giving nearly no protection at all. Compared to its predecessor MU-4 it was longer (one roadhweel added), with one extra crew member and more powerful engine. As a self-propelled gun it wasn't bad, but it was advertised as a light tank and the lack of armor ultimately doomed it. Czechoslovak army showed no interest in such a vehicle and the project was cancelled in 1934.
Characteristics:
Weight: 3t
Armor: 5mm front, 4mm sides
Engine: Škoda Flat Six V6, 55hp
Max. Speed: 41 km/h
Gun: 47mm A-2
Tier 3 - PÚV-6
History:
The PÚV-6 (Pásový Útočný Vůz, 6válcový motor - tracked assault vehicle, V6 engine) is the evolution of the MU-6. After the MU-6 failure in 1934, the Škoda engineers tried to make something of the failed prototype and came with a solution unheard of at the time. They removed the turret completely, replacing it with very thin plates and installed a dual-purpose 40mm L/71 Z-1 prototype gun. This vehicle would now be used against both air and land targets. The suspension remained basically the same (minor improvements and engine tuning). While in theory the concept sounded reasonable and innovative, the vehicle was tested in 1934-1935 and the tests showed a huge number of flaws, including the unreliability of the running gear. What was even more surprising however was the low accuracy of the gun, because the long barrel tended to oscillate too much between shots. The result was that the Z-1 gun itself was never adopted by the Czechoslovak army despite its potential and the development of the vehicle was terminated in 1935.
Characteristics:
Weight: 4,5t
Armor: 5,5mm max
Engine: Škoda Flat Six V6, 55hp
Max. Speed: 41 km/h
Gun: 40mm Z-1
Tier 4 - ST-II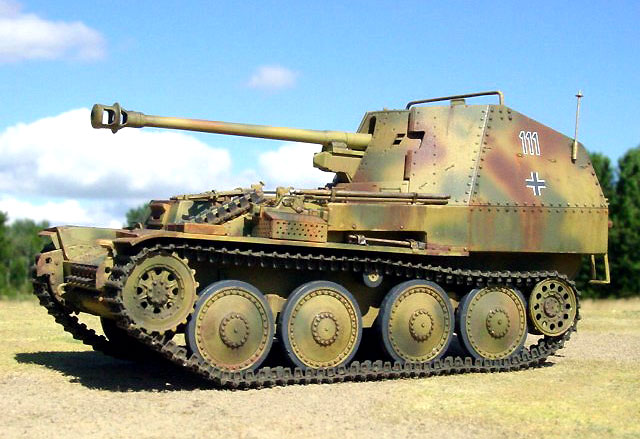 History:
After the war, Czechoslovak army was equipped with all sorts of captured vehicles. Apart from the Hetzers, adopted to the Czechoslovak army as ST-I, Czechoslovak also had a number of Marder III vehicles (both Ausf.M and Ausf.H) - it is unclear how many, some sources vaguely state "many", some state as little as 12. One thing is clear: all of them were taken out of service very soon. Marder III's were built on the LT-38 chassis Czechoslovak crews and workers were familiar with, but offered very little advantages, apart from being a stopgap measure to fight the enemy armor.
Characteristics:
Weight: 10,8t
Armor: 50mm max (15mm sides)
Engine: Praga AC
Max. Speed: 47 km/h
Gun: 75mm Pak 40/3 L/46
Note:
As many would probably agree, ST-II is not an ideal choice for this tier. There are two more in fact, each carries its own problems. First is the
SD-76
- a Czechoslovak version of the famous SU-76 SPG. A few were imported (as far as I know, all were completely worn out) and experimented upon. SD-76 never made it to the regular army (unlike the ST-II), but it's an option. Second option would be to include some sort of ShPTK-LP construction, namely the one with a dual-purpose 50mm cannon. Superficially, it resembled the SU-76, but it had nothing in common with it. However, that was a purely paper project (not that it matters that much). There are more exotic options here too, such as the ShPTK 75/40, which was the StuG III used by Czechoslovak army - think stock StuG.
Tier 5 - ShPTK-LP- Turret
History:
The story of this vehicle closely resembles the one in the turretless branch. During the conference of 1948, this proposal for a turreted tank destroyer was preferred by the artillery command. It was to be very lightly armored (cca 20mm), but very light and fast (16 tons, 500hp engine, 55km/h cross country) and armed with a newly developed 76,2mm gun in a fully traverseable turret. At the time, the engineers tried to construct something resembling the M18 Hellcat. It boasted an impressive elevation - from -8 to 38 degrees (an artillery legacy). A 105mm howitzer version was also concieved (number 2 on the picture). Just like the turretless version - this project was short-lived. In 1949 it was decided there are too many projects around of this kind and this project was merged with the turretless version and effectively cancelled.
Characteristics:
Weight: 16t
Armor: 20mm max
Engine: V8 turbodiesel, 500hp
Max. Speed: 55 km/h cross country
Gun: 76,2mm A19, 105mm howitzer
Tier 6 - ShPTK-TVP-Turret
History:
Again, the story of this vehicle closely resembles the one of the turretless TVP. This was the artillery command's preferred version, capable of huge elevation. It was to be lightly armored, but heavily armed. The designers were inspired by the US M10 and M36 vehicles, but - along the lines of "bigger is better", they equipped their vehicle with either a Czechoslovak 100mm A20 gun, or even a 152mm howitzer (unclear as to what type, it might have been the newly developed Czechoslovak model, not the Russian one - picture no 3). The turret was fully traverseable, the elevation was to range from -6 to 40 degrees (in the case of the 100mm gun), or -5 to 70 degrees (!) (in the case of the howitzer). Artillery roots are clearly shown here. However, even this vehicle based on the TVP suspension was to be lightly armed - for its 32 tons, it was to have only 20mm armor. However, it still retained the 1000hp (!) TVP engine - it would have been a monster. The 100mm gun A22 would have roughly the performance of an improved D-10S gun. Just like with the other project, this design was scrapped with the end of the TVP tank development. It stayed on paper - no prototype was ever made.
Characteristics:
Weight: 40t
Armor: 20mm
Engine: V16 Škoda AHK or ČKD AHX, 983hp
Max. Speed: ?? km/h
Gun: 100mm A22, or a 152mm howitzer
Tier 7 onwards
Here it gets a bit more complicated. Again - there are two options, as "unfinished" half-branches are not allowed (according to Wargaming, a branch must end either by a tier 10 vehicle, or by merging with the original branch). The merge is obvious - both branches could aim into the tier 7 TVP medium tank, continuing all the was to tier 10 (SerB stated he already has tier 8 and 9 Czechoslovak tanks - tier 10 being either some sort of "superTVP" fictional design á la E50 Ausf. M, or simply some version of the Czechoslovak T-55). That's the easy way.
The hard way would be to try to fit two more vehicles, to make the branches merge into tier 9. If the tier 9 was a soviet construction (such as some type of Czechoslovak T-54), tier 7 could be the SD-100 (a licensed version of SU-100, practically without any changes, although there was an evolution program to equip it with better gun (Czechoslovak A20), fire control system and shells), while tier 8 could be some sort of ISU-152, briefly used by the Czechoslovak army, as far as I can tell. Those could very well aim to another Soviet machine at tier 9.
And premiums?
There were all sorts of experiments going on, so I am sure there could be a premium Czechoslovak TD as well. Namely, captured StuG III's and Hetzers were to be equipped with the Czechoslovak 76,2mm A19 gun, or even the 85mm vz.44 gun. Those never reached any serious project stage however.
Sources:
www.valka.cz
M. Dubánek - Od bodáku po tryskáče
Francev, Kliment - Československá obrněná vozidla 1918-1945
Pejčoch - Obrněná technika 6